How to create Vastu Entrance? (Main Entry door)
Position and size of door
When the main door in the house is in east or North, it is better away from the center toward the
North,East, or north East. The rest of the doors in the house should not be bigger than the main door.
Facing of the main door
The entry door should not face any religious place, church, or temple. No shadow of religious place
should fall on your house. If the religious place is as far as double the height of your house it has
no negative effect. In South and West facing house the doors should be exactly in the middle.
There should not be anything blocking the main gate. Electric pole, tree all are negative vastu for entrance.
Driveway No road should end in the drive way. Only roads in North,East or NorthEast direction of the property are considered good when ending in the driveway.
Number of doors and opening of the windows,
In case there are two entry doors they should not be in straight line.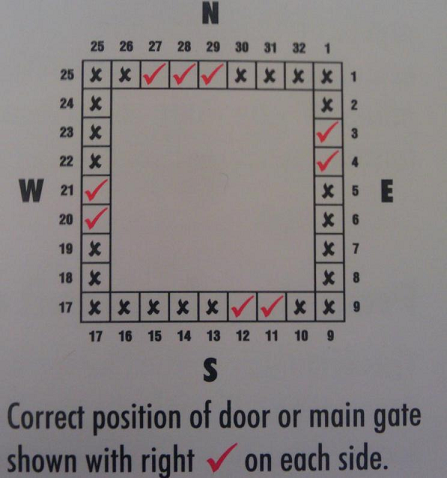 Number of doors and windows
should be less on the second floor than on the main floor. The fence gate on the North, Northeast,
East is very good. Make more doors and windows open towards North and East.
Fix with Pyramid

Fixing Bagua like Protect Inside door and Protect outside door bring very positive result for
the entrance additionally Bemor International come in pair and can be placed on either side of
doors to correct the main entrances.
See Protect 9X9 outside.
See Protect 9X9 Inside.
See Bemor International.
Also look for location of Main door
Look up the description and benefits in Pyramid Yantra for Vaastu Book on Page 106