PyraCard kit (all 4 cards) with FREE booklet!
New pocket size pyramid yantra for good fortune and health. Ready to use, just place the card in your pocket or purse that you carry with you. This innovative way for personal vastu and harmony gives miraculous results. PyraCard Kit is valued at $95.00, you can purchase it for only $62.00 now.
>>> Buy PyraCard kit(basic 4 cards) Pyramids for $62.00
Testimonials: Within 36 hours of getting my Pyracard, I noticed things changing for the better … read more
To find your missing force of destiny numbers, try using our online pyracard calculator.
Below is the Pyracard manual calculation guide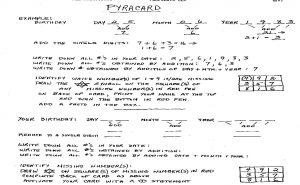 To view the manual calculation guide, click here.